Bettiah Nagar Parishad: Bettiah is a Nagar Parishad city in the district of Pashchim Champaran, Bihar. The Bettiah city is divided into 39 wards for which elections are held every 5 years.
The Bettiah Nagar Parishad has a population of 132,209 of which 69,529 are males while 62,680 are females as per report released by Census India 2011.
The population of Children age 0-6 is 18995 which is 14.37 % of the total population of Nagar Parishad Bettiah.
In Bettiah Nagar Parishad, the Female Sex Ratio is 901 against the state average of 918.
Moreover, the Child Sex Ratio in Bettiah is around 892 compared to the Bihar state average of 935.
The literacy rate of Bettiah city is 80.64 % higher than the state average of 61.80 %. In Bettiah, Male literacy is around 85.02 % while the female literacy rate is 75.80 %.
Bettiah Nagar Parishad has total administration over 24,463 houses to which it supplies basic amenities like water and sewerage.
It is also authorized to build roads within Nagar Parishad limits and impose taxes on properties coming under its jurisdiction.
Bettiah Nagar Parishad Chairman (Sabhapati)
Garima Devi Sikaria, who has been elected as the chairman of the city council, has said that efforts will be made to make the city a smart city.

the Chairman said that even though the government has not given the city the status of a smart city, the efforts will be made to identify the Bettiah city as a smart city with the help of available resources and internal resources of the city council.
Bettiah Nagar Parishad – Overview
Bettiah 39 Ward Commissioner List & Their address, Mobile No, etc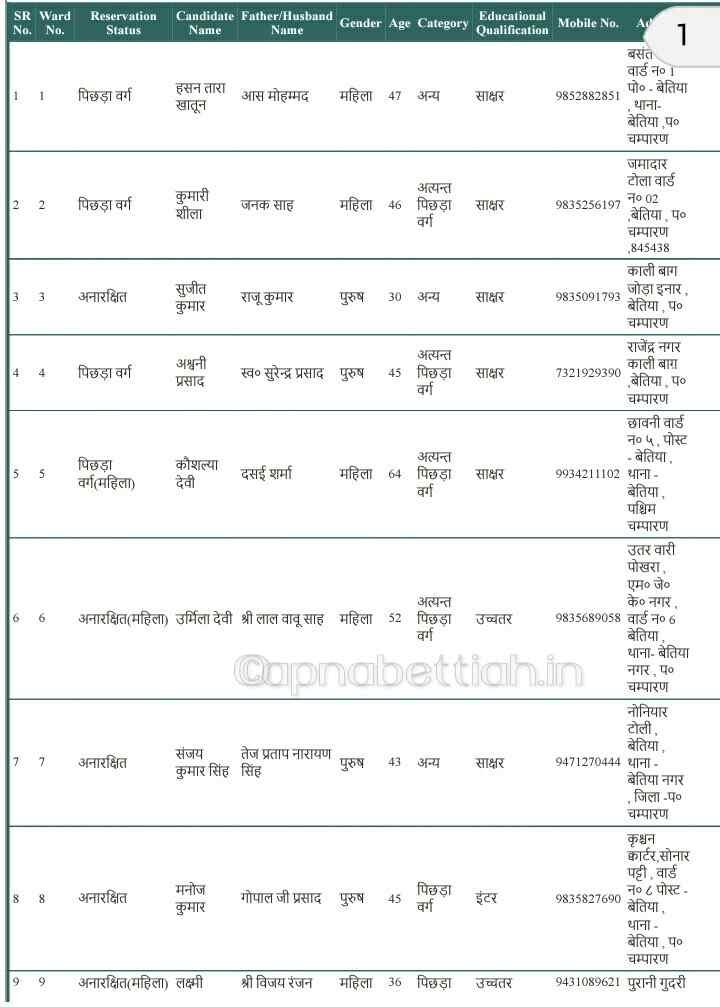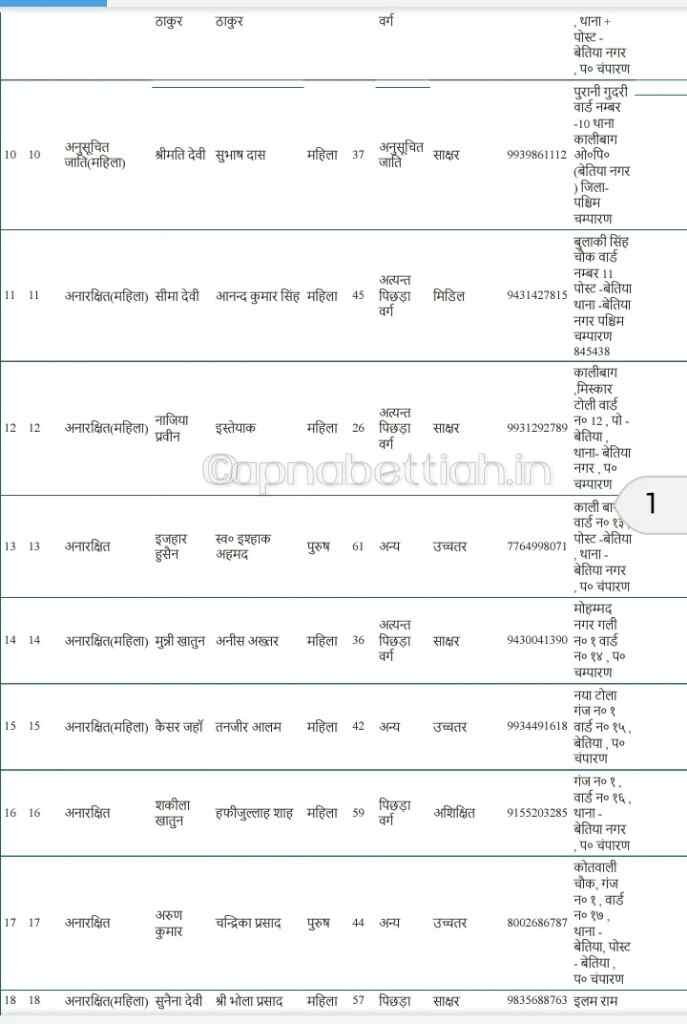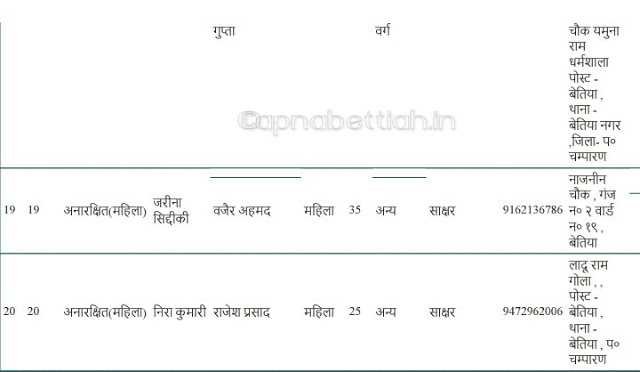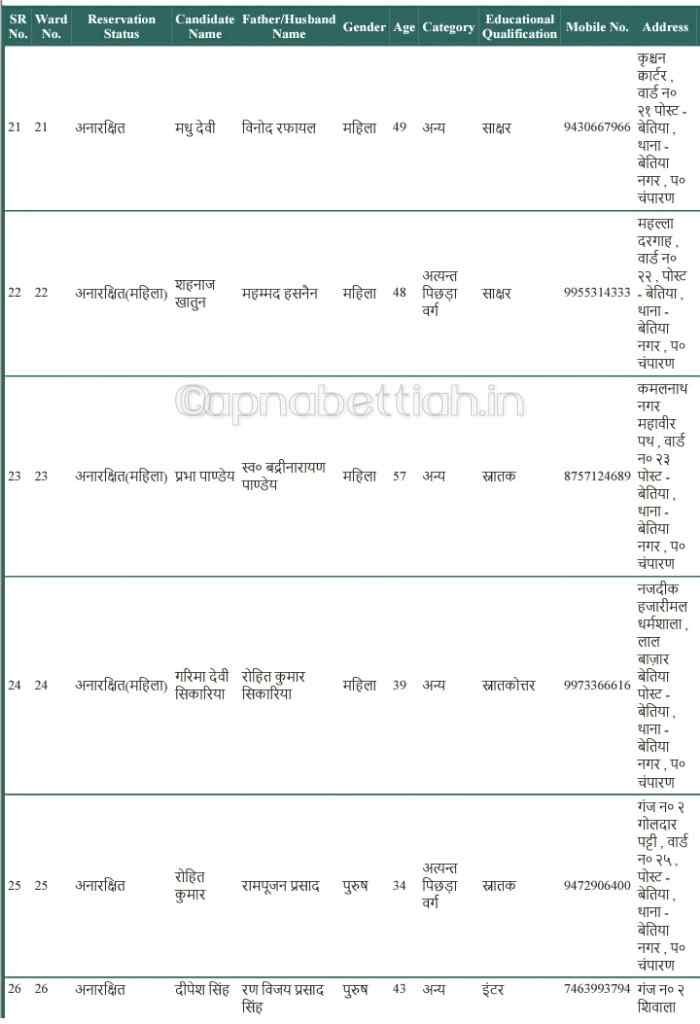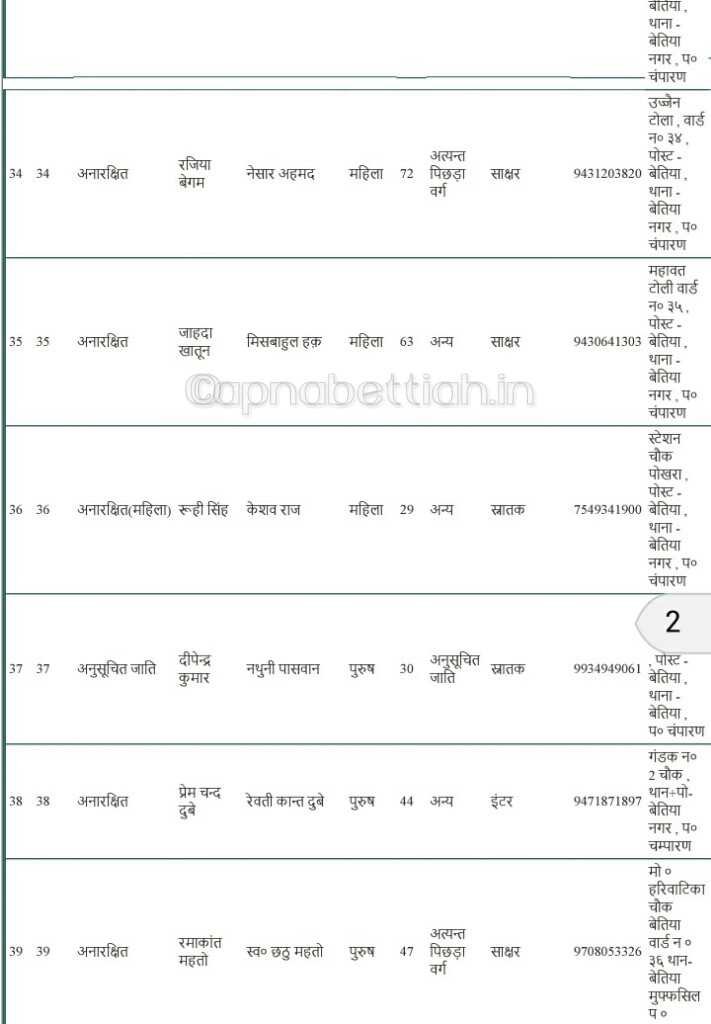 Nagar Parishad Staff's
| OFFICE | CADRE | DESIGNATION | NAME |
| --- | --- | --- | --- |
| ZILA PARISHAD BETTIAH | AMIN | AMIN | JAWAHARLAL MAHATO |
| NAGAR PARISHAD, BETTIAH | AMIN | AMIN | MD. MOZAMMIL |
| NAGAR PARISHAD, BETTIAH | ASSISTANT | ASSISTANT | NOOR MOHAMMAD ANSARI |
| NAGAR PARISHAD | BIHAR ADMINISTRATIVE SERVICE | EXECUTIVE OFFICER,BAGAHA | SRI BIPIN KUMAR YADAV |
| NAGAR PARISHAD, BETTIAH | BIHAR ADMINISTRATIVE SERVICE | EXECUTIVE OFFICER,BETTIAH | VIRENDRA KUMAR |
| DUDA BETTIAH | BIHAR ENGINEERING SERVICE | ASSISTANT ENGINEER | SURESH PASWAN |
| ZILA PARISHAD BETTIAH | BIHAR ENGINEERING SERVICE | ASSTT. ENGINEER | NURUL HODA |
| ZILA PARISHAD BETTIAH | BIHAR ENGINEERING SERVICE | ASSTT. ENGINEER | SURENDRA PRASAD SINGH |
| ZILA PARISHAD BETTIAH | BIHAR ENGINEERING SERVICE | MEDICAL OFFICER [AYUR] | JAWAHARLAL DUBEY |
| ZILA PARISHAD BETTIAH | BIHAR ENGINEERING SERVICE | MEDICAL OFFICER [AYUR] | RAMESHWAR MISHARA |
| ZILA PARISHAD BETTIAH | BIHAR ENGINEERING SERVICE | MEDICAL OFFICER [AYUR] | SHEO KUEAR DUBEY |
| ZILA PARISHAD BETTIAH | BIHAR ENGINEERING SERVICE | MEDICAL OFFICER [HOMEO] | RABINDRA NATH PAUL |
| ZILA PARISHAD BETTIAH | BIHAR ENGINEERING SERVICE | MEDICAL OFFICER [HOMEO] | RISHI KESH PATHAK |
| ZILA PARISHAD BETTIAH | CLERK | ACCOUNTANT CUM HEAD CLERK | EKNATH JHA |
| ZILA PARISHAD BETTIAH | CLERK | ACCOUNTANT CUM HEAD CLERK | PRAMOD KUMAR DWIVEDI |
| ZILA PARISHAD BETTIAH | CLERK | CLERK | ANIL KUMAR DWIVEDI |
| ZILA PARISHAD BETTIAH | CLERK | CLERK | BAIDYANATH MISHRA |
| ZILA PARISHAD BETTIAH | CLERK | CLERK | DEVENDRANATH TIWARI |
| NAGAR PANCHAYAT CHANPATIA | CLERK | CLERK | DHURUP PRASAD |
| ZILA PARISHAD BETTIAH | CLERK | CLERK | GHANSHYAM KUMAR SINGH |
| NAGAR PARISHAD, BETTIAH | CLERK | CLERK | HARENDRA PATEL |
| ZILA PARISHAD BETTIAH | CLERK | CLERK | MD. WAKIL AKHTAR |
| NAGAR PARISHAD, NARKATIAGANJ | CLERK | CLERK | NAND KISHOR MISHRA |
| ZILA PARISHAD BETTIAH | CLERK | CLERK | RAJENDRA KUMAR PANDEY |
| ZILA PARISHAD BETTIAH | CLERK | CLERK | SHAMBHU KUNWAR |
| ZILA PARISHAD BETTIAH | CLERK | CLERK | SREENARAYAN ROY |
| ZILA PARISHAD BETTIAH | CLERK | CLERK | TEJENDRAPATI TIWARI |
| ZILA PARISHAD BETTIAH | CLERK | CLERK | VISHWANATH PRASAD YADAV |
| ZILA PARISHAD BETTIAH | DRAUGHTS MAN | DRAUGHTS MAN | MADAN MOHAN PRASAD |
| NAGAR PANCHAYAT CHANPATIA | DRIVER | DRIVER | BINOD SHARMA |
| NAGAR PARISHAD, BETTIAH | SUB-ORDINATE ENGINEERING SERVICE | JUNIOR ENGINEER | SUJAY SUMAN |
| NAGAR PARISHAD, NARKATIAGANJ | SUB-ORDINATE ENGINEERING SERVICE | JUNIOR ENGINEER | BINDESHWARI SAH |
| NAGAR PARISHAD, NARKATIAGANJ | TAHSILDAR | TAHSILDAR | RAGHUBIR HARIGAN |
| NAGAR PARISHAD, BETTIAH | TAX COLLECTOR | TAX COLLECTOR | ABHAY KUMAR |
| NAGAR PANCHAYAT RAMNAGAR | TAX DAROGA CUM CAHIER | TAX DAROGA CUM CAHIER | SASHINDRA SHRESTHA |